American Bully Kennel Great Britain
Welcome to American Bully Kennel «Dognik Bulls» UK.
Our nursery has been operating since 2011. We have been living with the American Bully breed since 2016.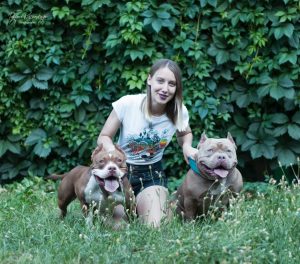 The main American bulls for the kennel were bought in America, Italy, Russia. Our bulls are examined for pedigree genetic diseases. Regular visits to the veterinarian for examinations (blood test and ECHO-KG of the heart). If you wish, if you want to buy an American Bully from our UK kennel, we do similar examinations for the puppies for sale (for a fee).
Among the graduates of the American Bully Kennel Great Britain there are ABKC Champions, FCI Champions, European Champions and Eastern European Champions.
In breeding we use healthy dogs, with good muscles, with a good musculoskeletal system. We don't have American Bullies with narrow nostrils that can't breathe and live normally. We love healthy dogs of any breed.
In our kennel you can buy an American Bully puppy in UK in the type: pocket, standard, classic.
Since childhood, puppies have been raised on super-premium food. Our nursery is located in the forest. Puppies walk and breathe the cleanest air. We sell the most healthy puppies.
Our dogs live in 20 countries of the world. If you are unable to pick up the puppy in person, we will help arrange delivery of the American Bully puppy.
If you are looking for an American Bully kennel in the UK, be sure to contact us:
Instagram american bully kennel Great Britain — dognikbulls
Email: dognikb@gmail.com
In the photo you see American Bullies from the Dognik Bulls kennel: