American Bully Kennel London
We are glad to see you on the page of the American Bully Kennel London «Dognik Bulls».
Initially, our kennel specialized in dogs of the American Pit Bull Terrier breed. In 2016, we also started breeding the wonderful American Bully breed.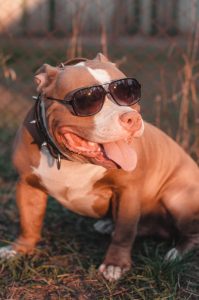 We have selected dogs in the «Pocket» and «Standard» types for our future livestock. Dogs for the American Bully Kennel London were brought from America, Italy, Russia. Initially, we brought American Bullies with very good, strong bones. With powerful heads, strong jaws. Our dogs have excellent personalities. The next task for the kennel was to fix this in children from our dogs. We wanted to get American Bullies only with the right physique, without excess. Get dogs with beautiful anatomy, with good movements. American bulls, more suited to the «exotic» type, were not of interest to us. These dogs have problems with their paws, with their backs, with their hearts and joints, with breathing, and even with narrow nostrils. Perhaps they look spectacular as toads. But in fact, these dogs are disabled.
The breeding vector of the American Bully London in the Dognik Bulls kennel is aimed at obtaining healthy and functional American Bullies. With which future owners can go to the park, take with them to the forest and to the beach. Ideal companion dogs with the appearance of Arnold Schwarzenegger.
Typical colors in our kennel: lilac, blue, chocolate, tricolor. You can buy an American Bully London puppy from us in the «Pocket» or «Standard» type. It depends on each individual mating.
If you want to book an American Bully puppy in London from already born or from future litters, write to us and tell us about yourself:
Instagram american bully kennel London— dognikbulls
Email: dognikb@gmail.com
Dogs of the American bully kennel London «Dognik Bulls»