Buy a pit bull puppy. american pit bull terrier
We have pit bull puppies in our Dognik Bulls kennel.
On October 22, 2022, a litter of pit bulls was born in the kennel of American Pit Bull Terriers. 8 puppies (4 girls, 4 boys).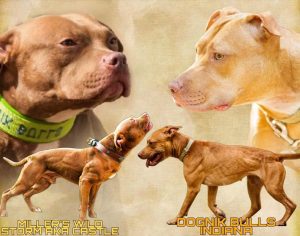 Father: Millers Wild Storm Castle Brought from America. Real Deal Chocolates nursery. Free from pedigree genetic diseases (own tests). Junior Champion of Ukraine, Junior Champion of Russia, Junior Club Champion, Candidate for Champion of Russia in Working Qualities (in great competition), Champion of Ukraine, Winner of Ukraine. Winner in the pit staff all-around competition in Russia. Winner in dog-puller competitions in Ukraine. The son of Champion in weight pulling and sports competitions in the USA, champion of ADBA and UKC. Son of a U.S. sports champion. Father of over 300 American Pit Bull Terriers worldwide. Top dog in the breed. One of the most famous male pit bulls in the world at the moment.
Mother: Dognik Bulls Indiana. Brought from Russia
All puppies move to new homes with the first vaccination, European passport, microchip, ADBA pedigree.
Instagram- dognikbulls
Email: dognikb@gmail.com
Boy Dognik Bulls Eldorado
Boy Dognik Bulls Muturganchik
Boy Dognik Bulls Viking
Boy Dognik Bulls Komanchi
Girl Dognik Bulls Dolphine
Girl Dognik Bulls Adalinda
Girl Dognik Bulls Sassenach
Girl Dognik Bulls Charlotte
Buy a pit bull puppy