Buy a pit bull puppy USA
American Pit Bull Terrier puppies in Dognik Bulls kennel!
Date of birth: October 22, 2022.
They move to new homes dewormed, with a microchip, with a European veterinary passport, with an American pedigree.
Facts about the Dognik Bulls kennel and why choose us:
— Experience with the American Pit Bull Terrier breed since 2011
— The largest kennel of American Pit Bull Terriers in the country
— Graduates of the nursery — Champions of Italy, Champions of Ukraine, Champions of Latvia, Champions of Russia, Champions of the Baltic States, Champions of Belarus, Champions of England, Champions of Eurasia, etc. in exhibitions. Winners of sports competitions for American Pit Bull Terriers in Latvia, Finland, Russia, Ukraine. TOP Champion of Italy 2020 was born in our kennel! The uncle of our main sire Millers Wild Storm is the most titled pit bull terrier in the WORLD in sports and shows! His nickname is Fonvielle's A&N Stuff of Legends.
— All dogs of the kennel are examined and healthy. All breeding pairs are selected taking into account their pedigrees, their external type, anatomy and character. Our pit bulls do not have allergies.
— We don't have killer pit bulls! All pit bulls from the Dognik Bulls kennel are adequate dogs with good mentality.
— Our breeding is built as much as possible on the blood of America, from the oldest lines of pit bulls.
6 pit bull puppies for sale. The rest of the puppies are already booked.
Boy Dognik Bulls Muturganchik. The biggest and bravest boy in the litter. Color: red red nosed.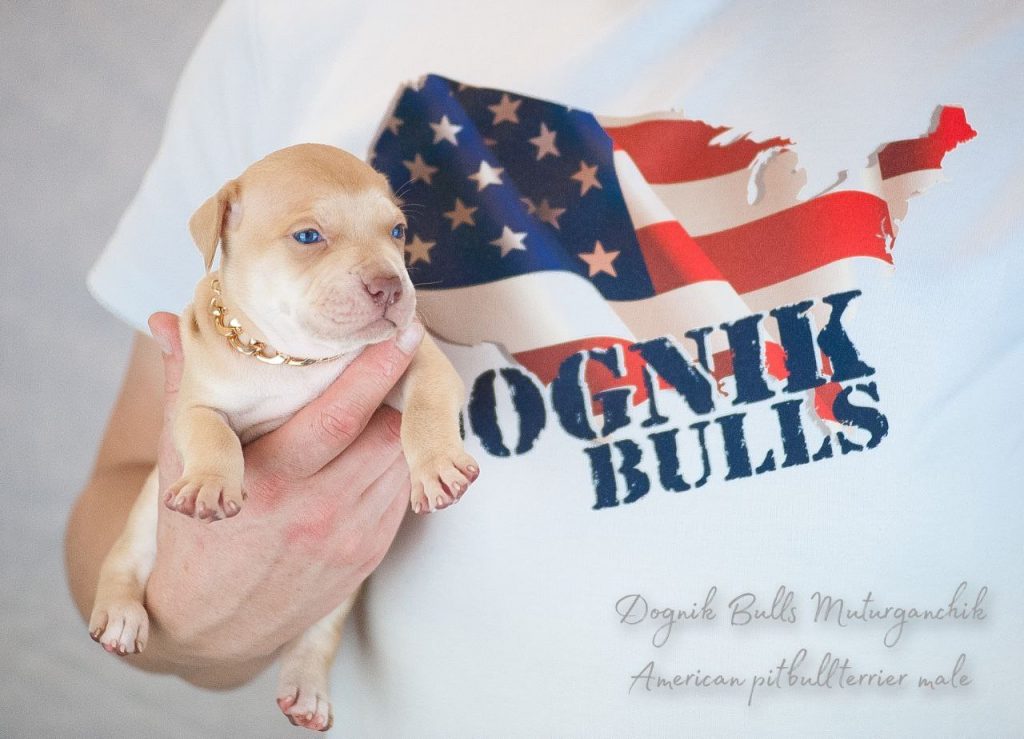 Boy Dognik Bulls Viking. Strong, powerful boy Color: red red-nosed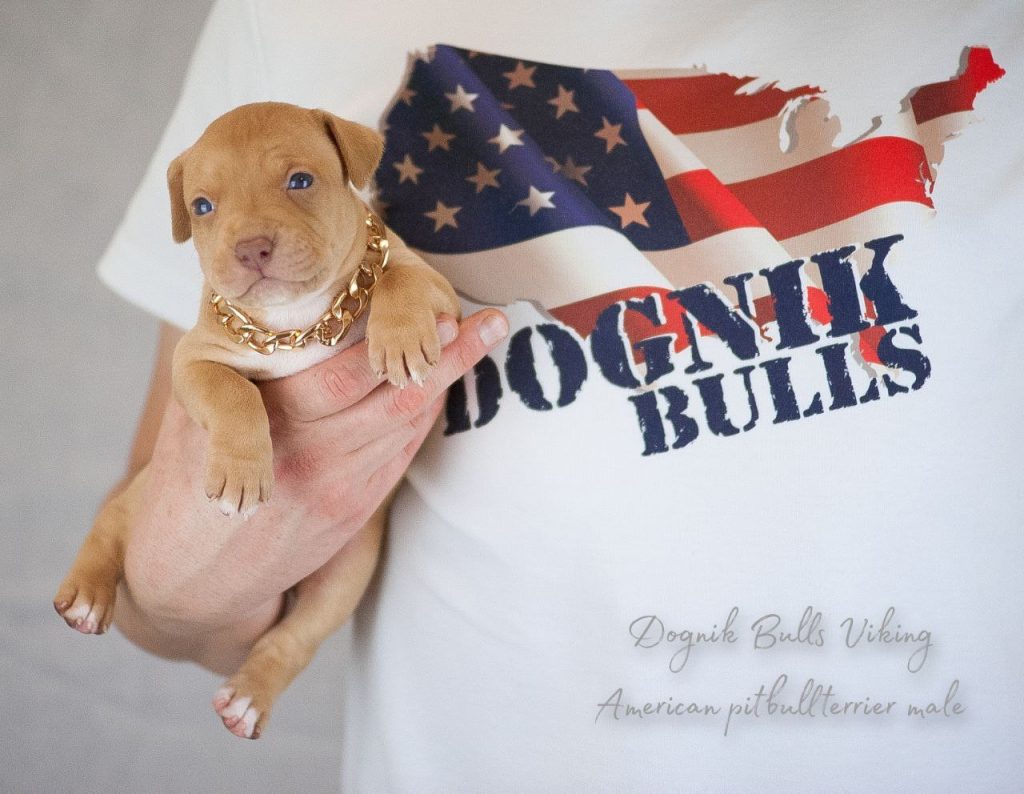 Boy Dognik Bulls Komanchi. Small, very active, dominant boy. Color: red red nosed.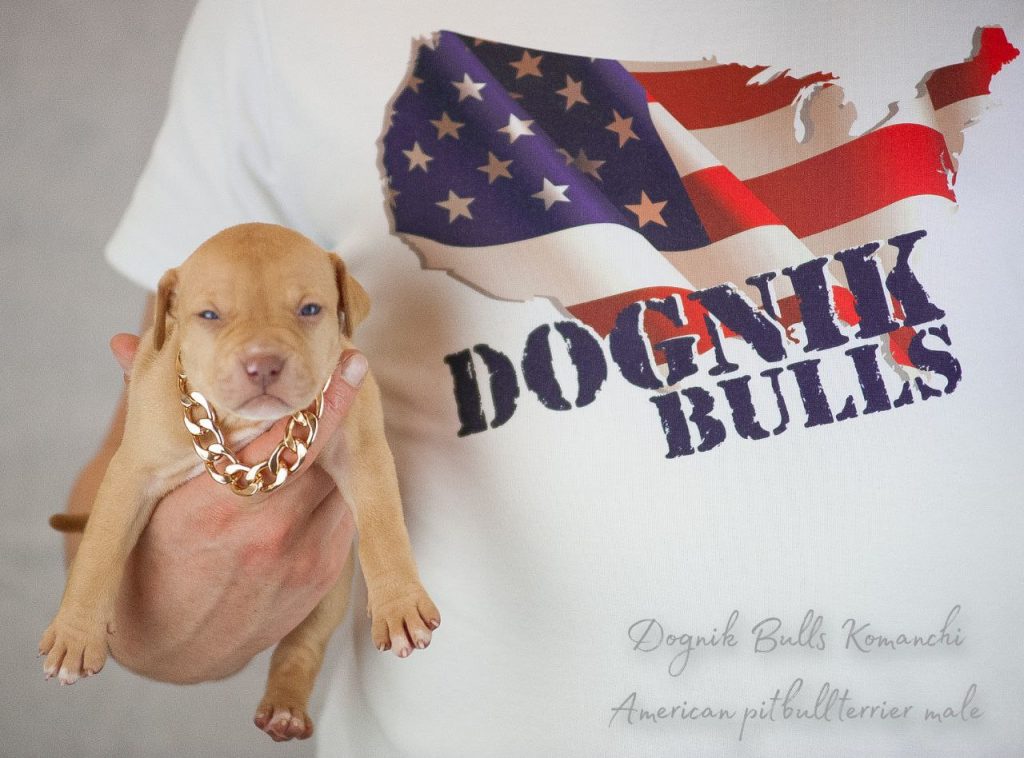 Girl Dognik Bulls Adalinda. Cream girl. Strong, excellent anatomy, outwardly similar to his father. The best pit bull puppy in this litter. Sold much more expensive than others. Only for connoisseurs of the American Pit Bull Terrier breed. Only for those who will work with this dog: sports competitions, exhibitions, dog breeding.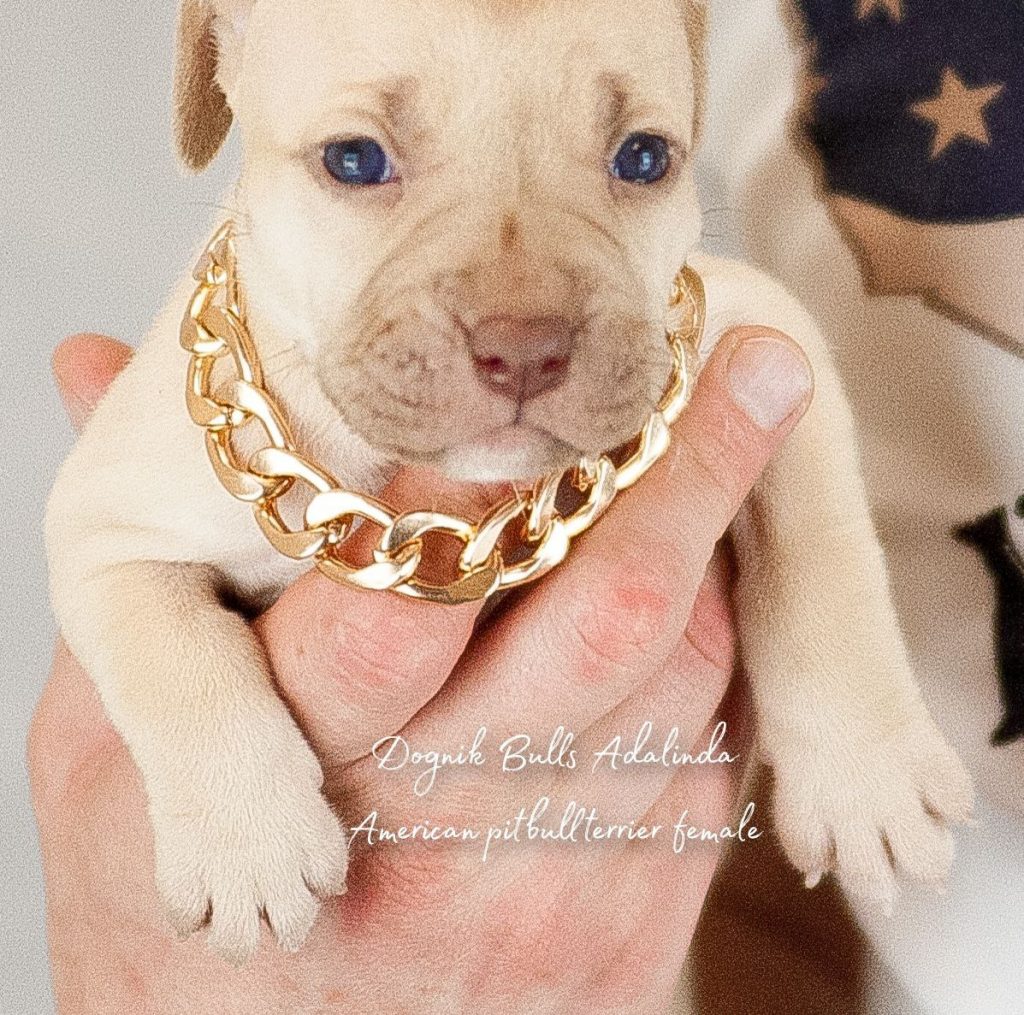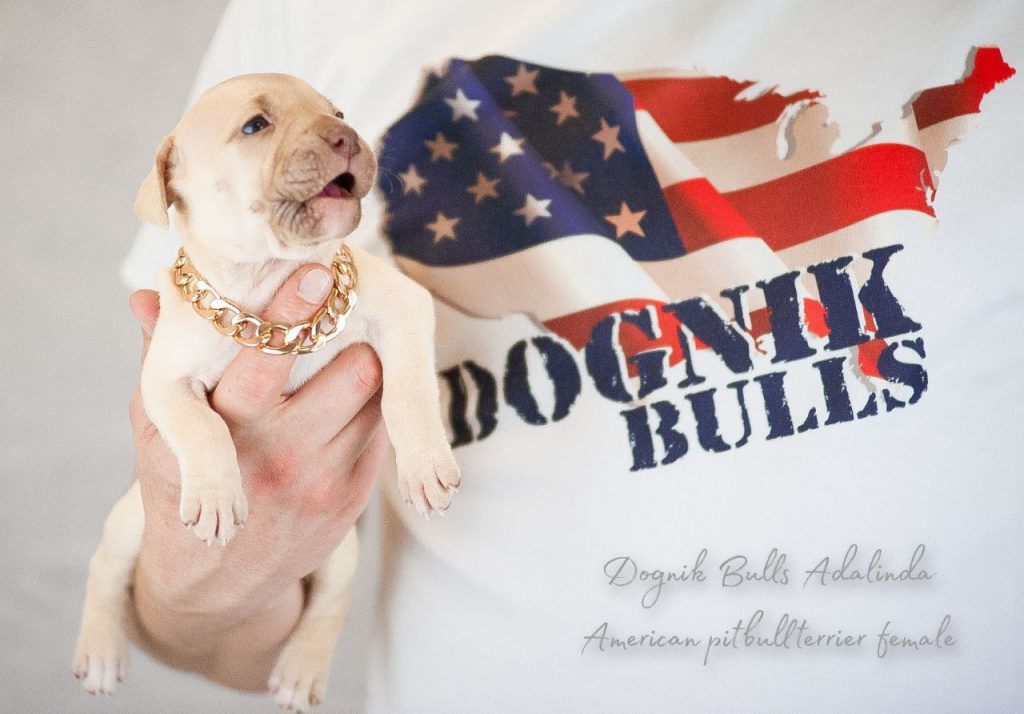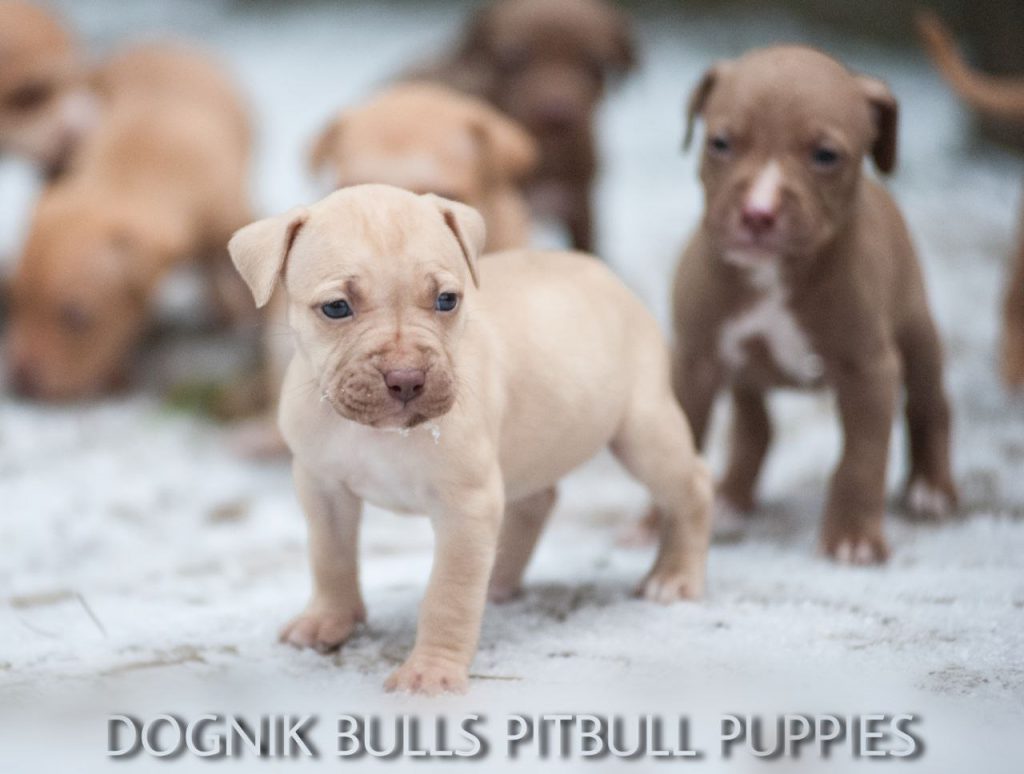 Girl Dognik Bulls Sassenach. Small, sweet girl. Outwardly more in the line of the father. Color: red red nosed.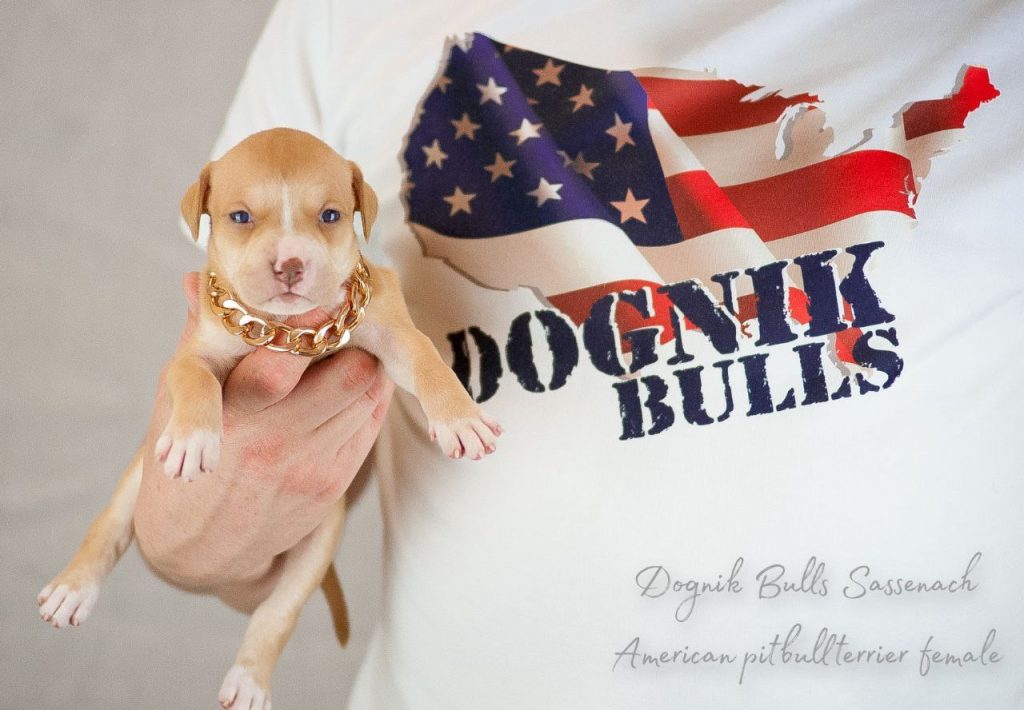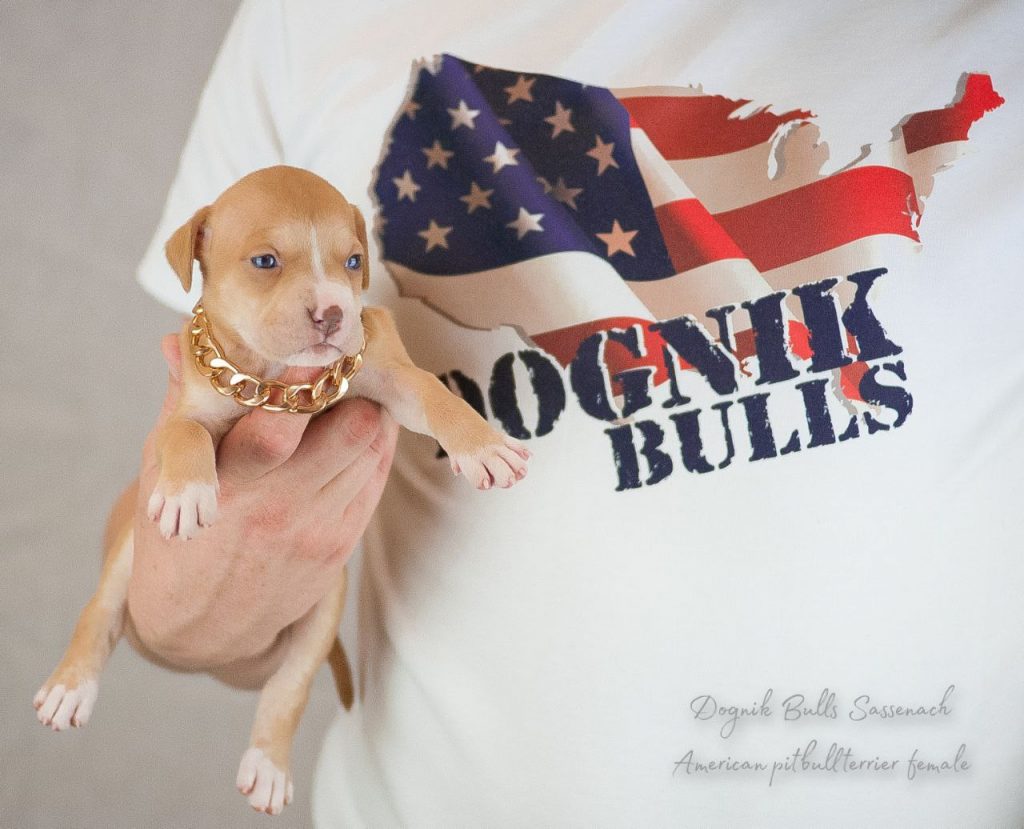 Girl Dognik Bulls Charlotte. Calm, confident girl. Externally, a copy of his mother, only larger. Color: red-nosed with a chocolate mask on the muzzle.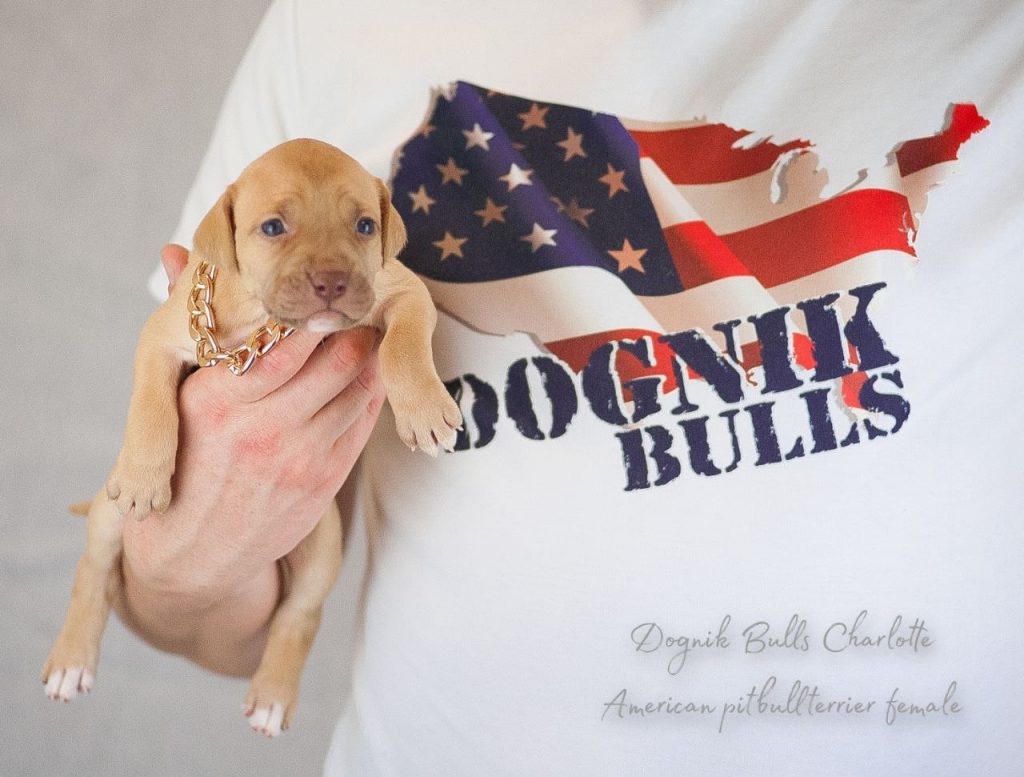 Father of puppies: brought from America. Sports nursery «Real Deal Chocolates». Nickname by pedigree — Millers Wild Storm aka Castle. His mother is an ADBA and UKC champion. American Grand Champion in weight pulling power competition (over 300 points!). US Pit Bull Terrier Champion. The father is titled in ADBA, weight pulling, pit bull sports in the USA. Titles of puppies' father: 2 times Junior Champion of Ukraine, Junior Winner of Ukraine, 4 times Best Junior at Monobreed Pit Bullshow in Ukraine and Russia, Candidate for Junior Champion of Russia, Candidate for Junior Federation Champion, Candidate for Champion of Russia in working qualities, Junior Club Champion ( «Brave Fighter», Moscow, Russia), Candidate for Champion of Ukraine, Candidate for International Champion of Beauty, Champion of Ukraine, 7 times Best Male of Breed, 6 times Best of Breed, Champion of Breed American Pit Bull Terrier, Multiple winner of dog-puller jumping competitions, Multiple Dog Puller Runner, Wall Climbing Winner, Hanging Around Winner, Free Jump Winner!
Mother of puppies: brought from Russia. Working nursery «Asadulla». Nickname by pedigree — Dognik Bulls Indiana. Granddaughter of such legendary dogs as: Ignatiev's Black Boy POR (the title means that this male has produced a large number of Champions), Red Yankee's Lutiy (Twice Winner), KBR knl's Mufaso (One Time Winner). Indiana carries an excellent accumulation of American Red Alert bloodlines. Also in her pedigree was added another imported male from America — SPK's Pinochet with the title «POR».
Parents Presentation: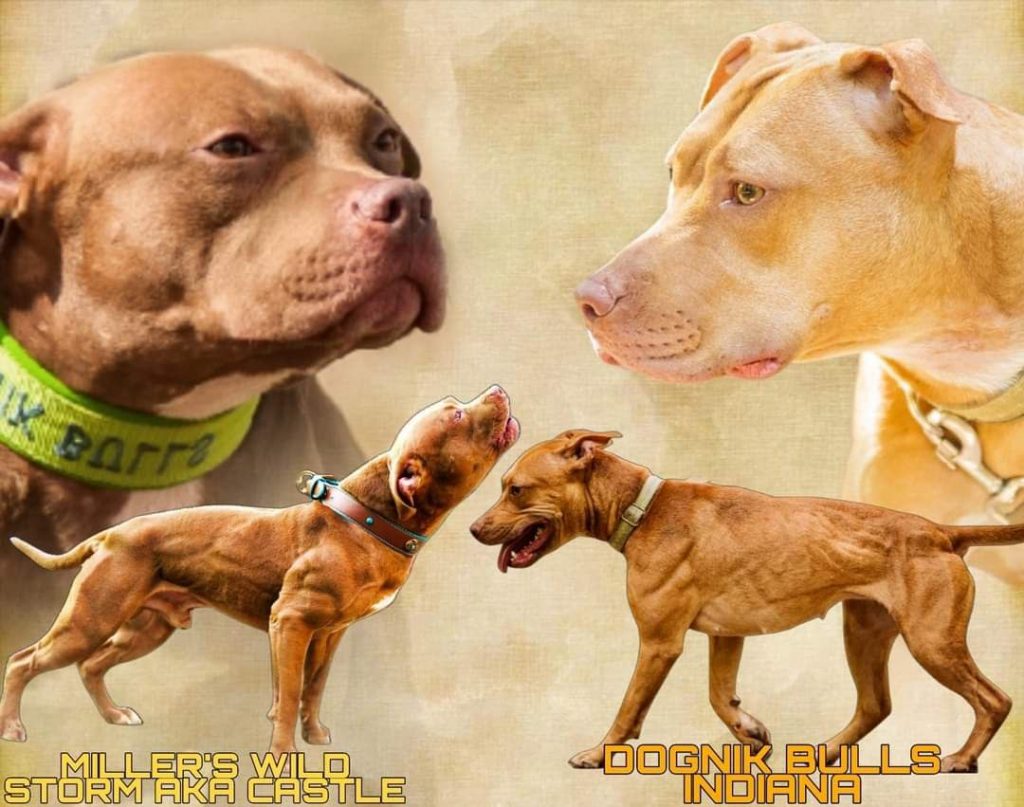 To buy a US Pit Bull puppy, contact the kennel:
Instagram «buy a pit bull puppy US» — dognikbulls
Email: dognikb@gmail.com
There is delivery worldwide. We take it personally from hand to hand