Buy a pitbull puppy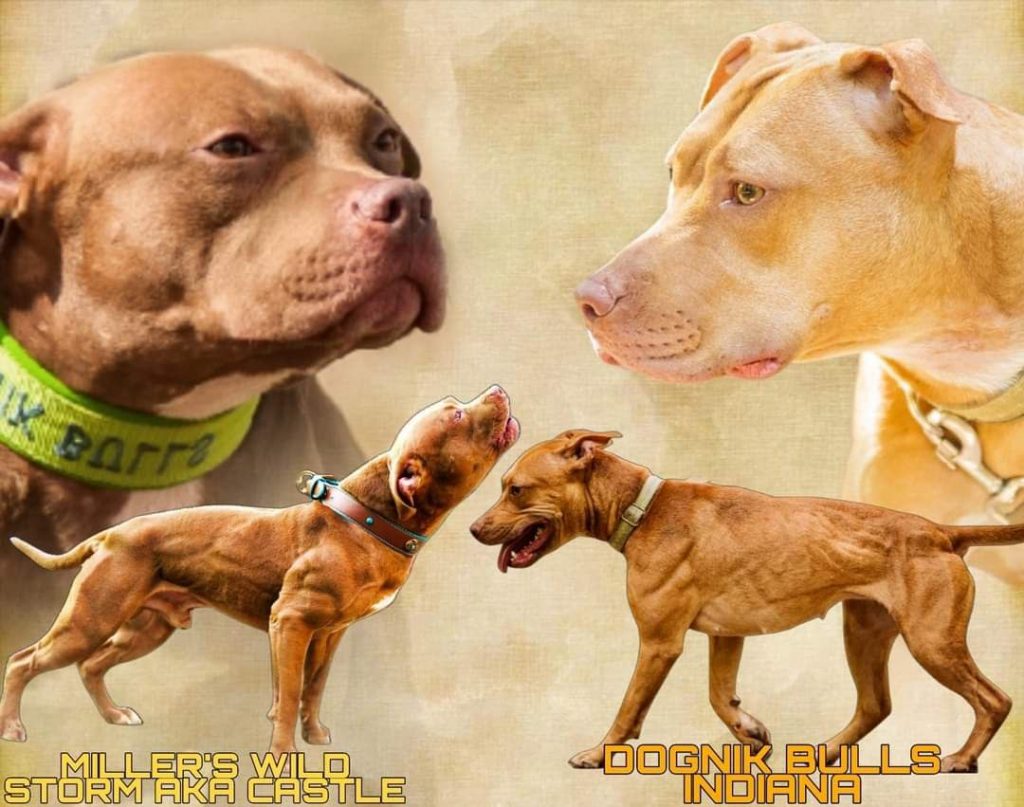 On October 22, a litter of American Pit Bull Terriers was born from an imported mating. The father was brought from the USA, Real Deal Chocolates cattery. The mother was brought from Russia, Asadulla cattery. Puppies will be able to go to new homes from 8 weeks. Vaccination, microchip, ADBA documents, European passport. Puppies are reserved with a deposit of 500 euros (included in the total price of the puppy). There is delivery worldwide. Approximate prices for some deliveries: in Latvia — 150 euros, Estonia Tallinn 150-200 euros, Finland Helsinki — 300-400 euros, Lithuania — 200 euros, Poland 250-350 euros, Romania 400 euros, Hungary 250 euros, Slovakia 250 euros. Our dogs live in 20 countries of the world!
Excellent blood combination: Old Family Red Nose (USA) on the father and Red Alert on the mother (USA). The father of the litter had already bred with Red Alert females and we got very typical dogs, beautiful, balanced in anatomy, very driven in sports and with excellent mentality in ordinary home life.
The knitting is done with a view to fixing a pure American line, ideal sports pit bull terriers, with excellent muscles and brains. In Europe and the USA, these bloods are very much appreciated and it is very important to keep this type of dog in our kennel and continue breeding it further. There are no analogues of this mating in Europe, since pure Old Family Red Nose blood is very rare, especially in such a combination oldest breeding. These are exactly the pit bulls that we have been seeing for many decades, and not newfangled huge monsters without brains. Puppies turned out in a bright type of American pit bull breeding lines.
Instagram:
Email dognikb@gmail.com
The father of the litter is Miller's Wild Storm aka Castle. US import. Athletic, well muscled male (even without regular training, he is very muscular) in a bright chocolate color. By nature active, groovy, with a very strong play and food motivation, an excellent family dog. Full teeth, scissor bite (correct for a pit bull). About 300 pit bulls are born from Castle, living all over the world (Europe and America). As a manufacturer, he produces true sporting pit bull terriers, without defects. Castle titles:
– 2x Junior Champion of Ukraine
— Junior Winner of Ukraine
– 4x Best Junior at Monobreed Pit Bull Show in Ukraine and Russia
— Candidate for Junior Champion of Russia
— Candidate for Junior Federation Champion
— Candidate for Champion of Russia in working qualities
– Junior Club Champion ("Brave Fighter", Moscow, Russia)
— Candidate for Champion of Ukraine
— Candidate for International Champions of Beauty
— Champion of Ukraine
– 7x Best Male
– 6x Best of Breed
— Champion of Breed
* sports champion in dog-puller «running»
* sports champion in dog-puller «jumps»
* sports champion in the discipline of wall climbing
* sports champion in the discipline of hanging around
*Winner of the competition in the spinpo (hanging on the grip)
4 times in a row won monobreed shows in two countries. The next time he won the all-breed show in Ukraine, Best in Show-1st place. Father of Italy's top pit bull in 2020 (Dognik Bulls Lannan Shi)! Father of all-breed show winners in different countries, Best in Show — 1st place.
In 2017 at the Specialty Show in Moscow, Russia, Castle won 1st place. Expert Mladen Krkelic (owner of the most famous working kennel in Montenegro Komani kennels) said about Castle: "I have not seen a pit bull better than Castle today. This is what a true American Pit Bull Terrier should be like." There were over 100 pit bulls at this show and Castle won!
Examined, healthy. Has the results of pure genetic pedigree tests.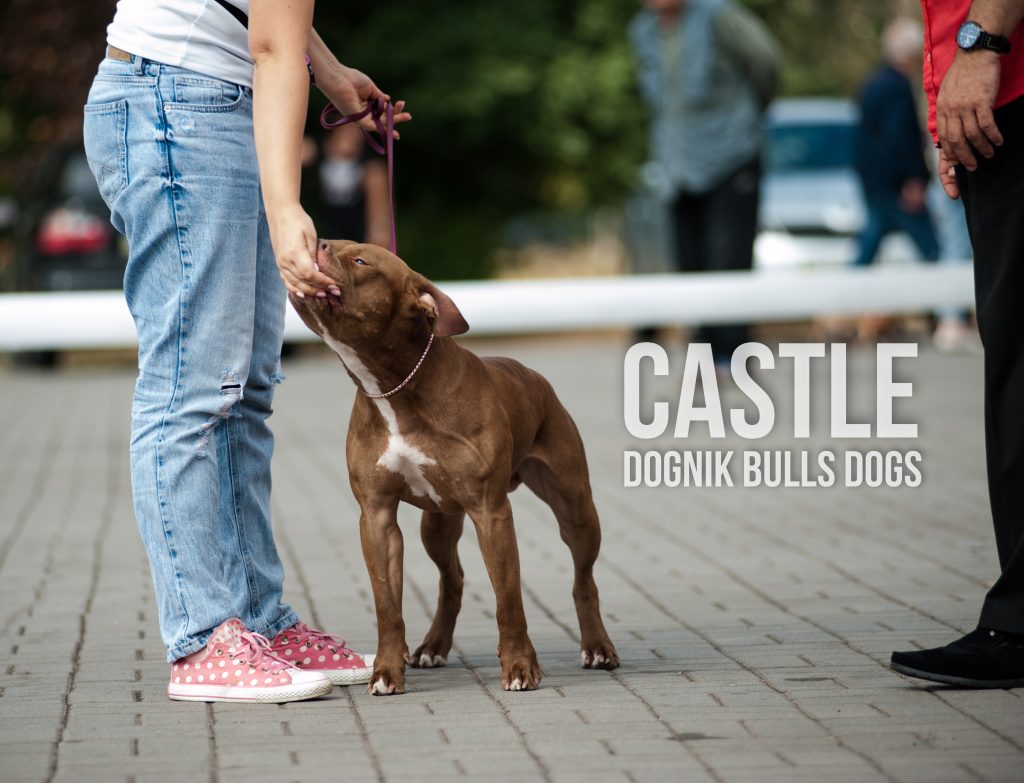 The mother of the litter is Dognik Bulls Indiana. Import Russia. Small red-nosed bitch. Very mobile, athletic, active. By nature: friends with the whole family. She takes great care of the puppies, a good mother. Full teeth, scissor bite (correct for a pit bull). Examined, healthy.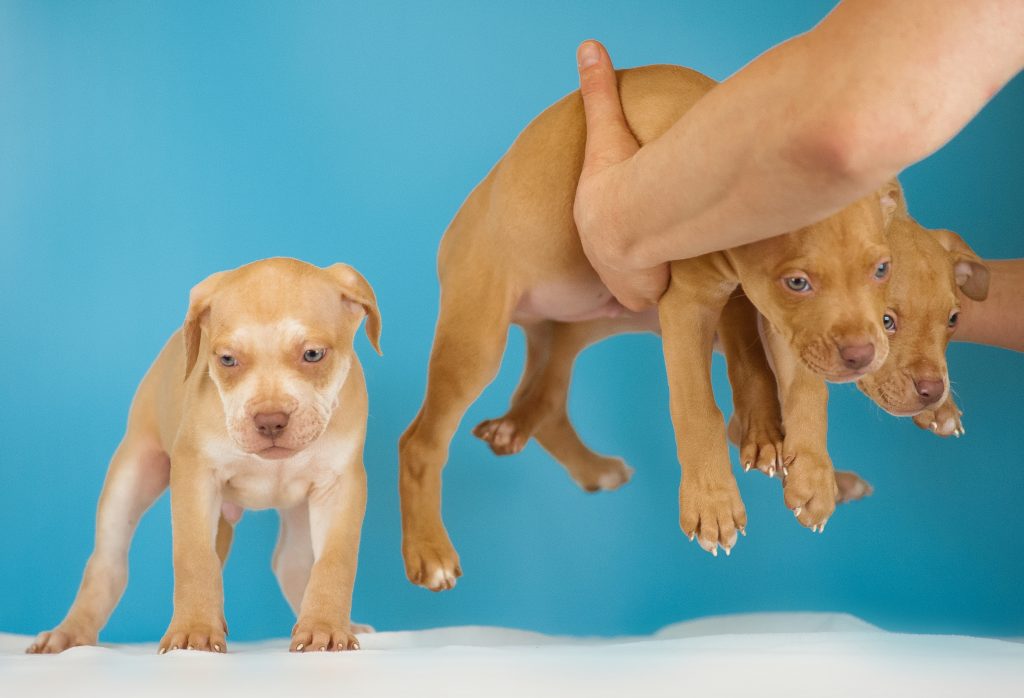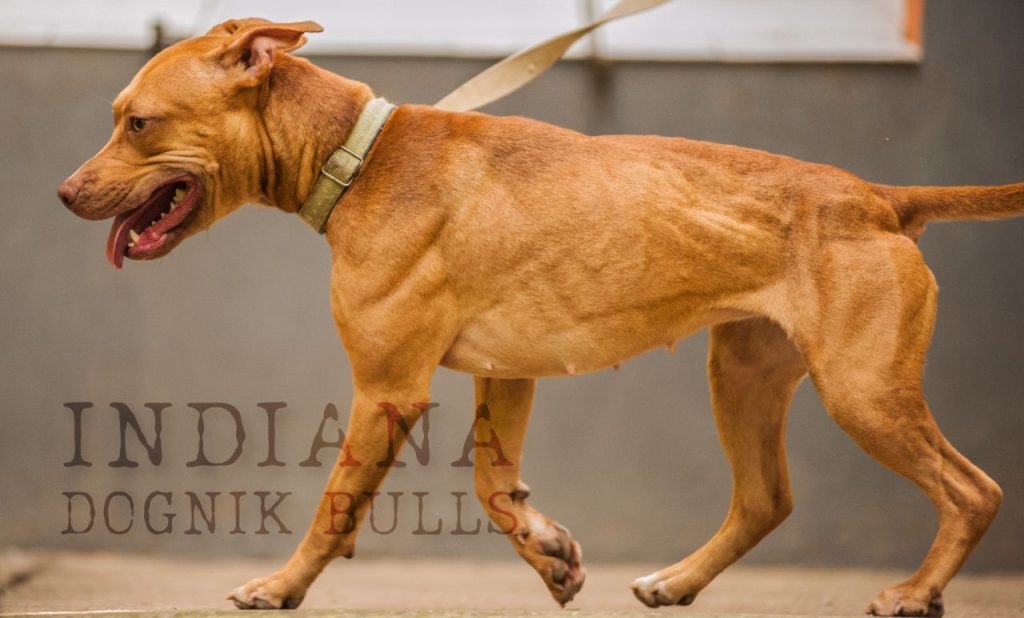 Pitbull puppies photos for sale:
Males pitbulls for sale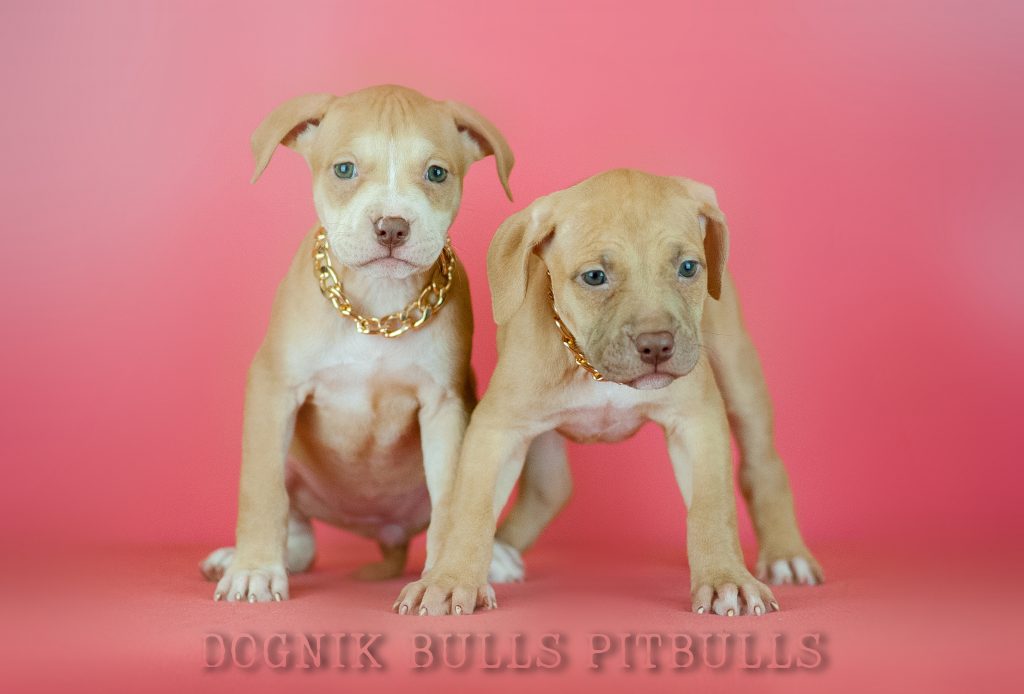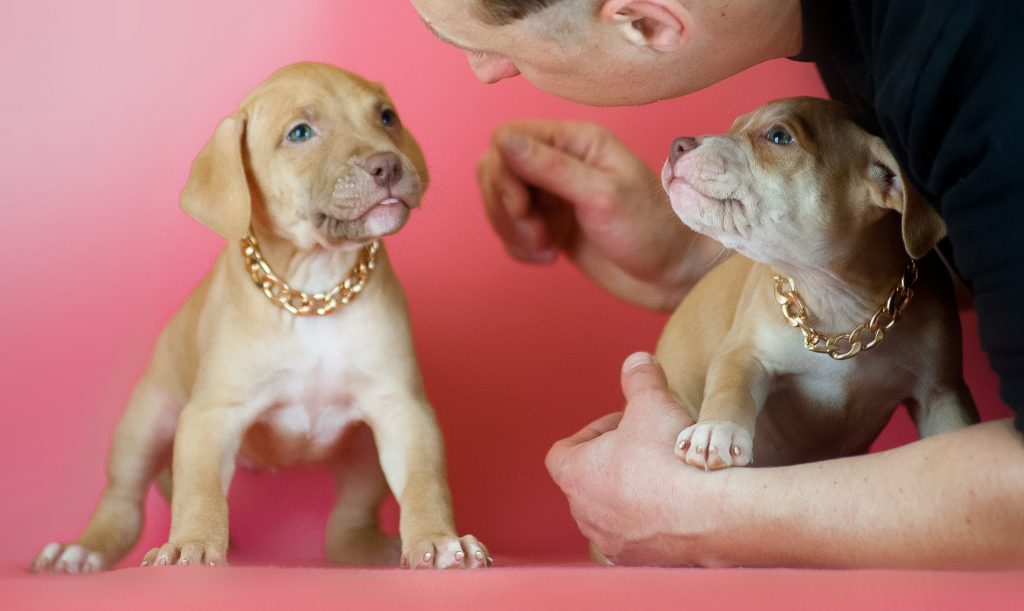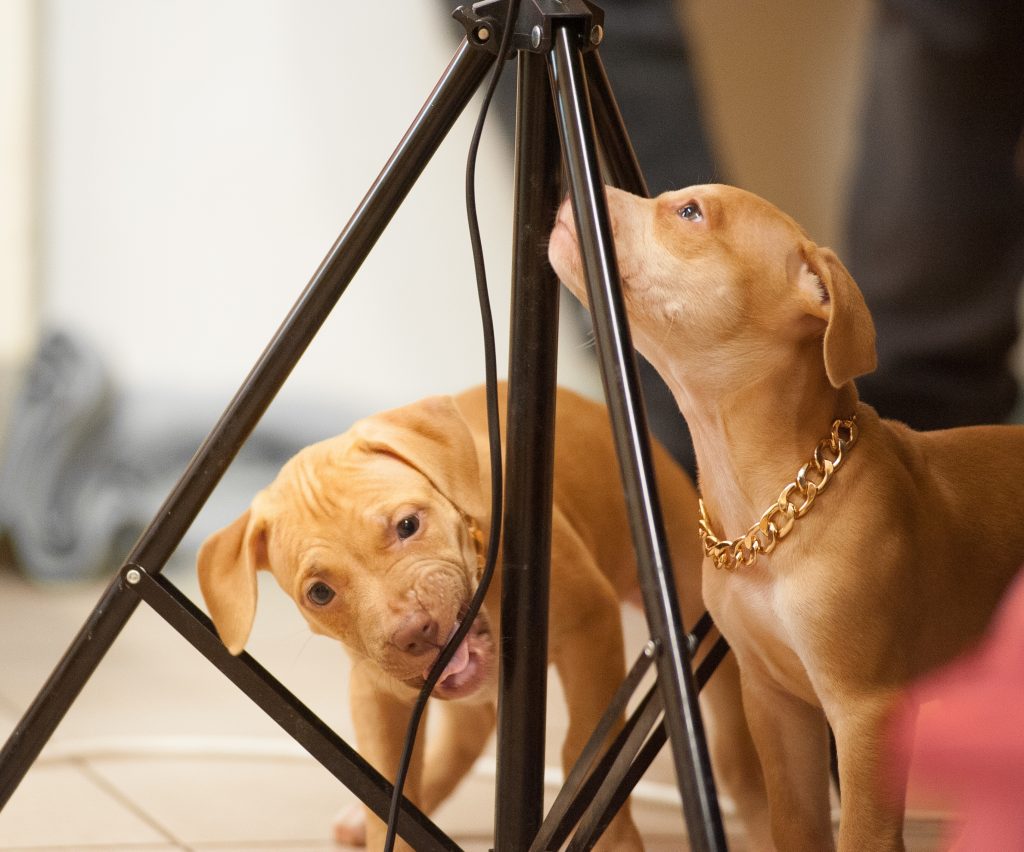 1. Dognik Bulls Eldorado- reserved to Finland
2. Female Dognik Bulls Dolphine- reserved to Ukraine
3. Female Dognik Bulls Adalinda- reserved to Finland
Video of American Pit Bull Terrier puppies:

Online pedigree pitbull puppies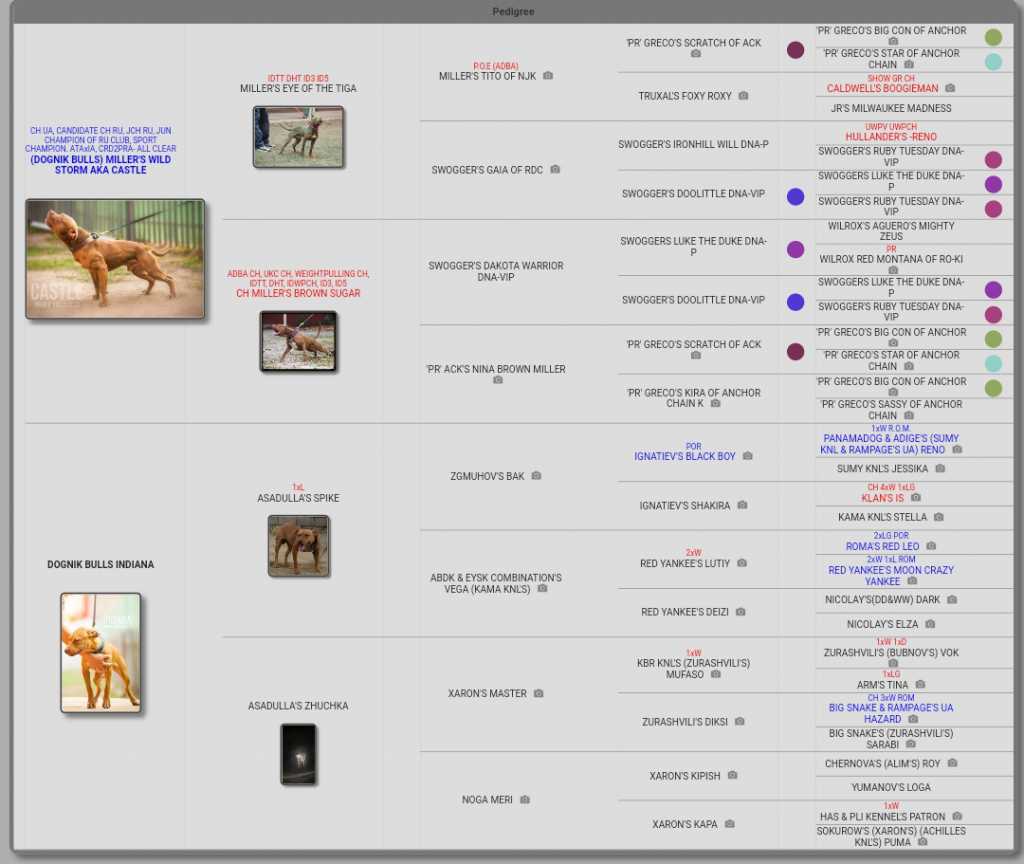 Famous relatives of puppies that we are proud of:
The grandmother of the litter is Miller's Brown Sugar. Born and lives in the USA. Titles: champion in exhibitions system ADBA (America), champion in exhibitions system UKC (America), sports and training results: IDTT DHT ID3 ID5 IDWP3 IDWPCH. Champion and grand champion in weight pulling. The winner of sports competitions for pit bulls in various disciplines.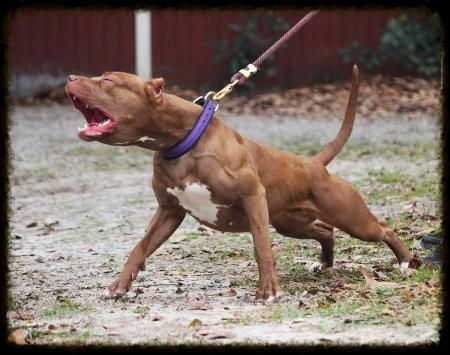 Дедушка помета- Miller's Eye of the Tiga. Рожден и живет в США. Титулы: высоко оценен экспертами на выставках формата ADBA (Америка), титулован в спортивных соревнованиях по вейтпуллингу. Спортивные и дрессировочные результаты: IDTT DHT ID3 ID5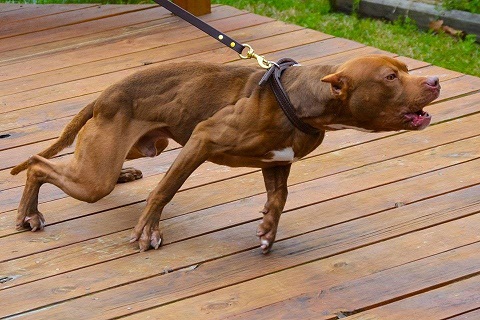 The litter's great-uncle is Fonvielle's A&N Stuff of Legends aka Boogieman. Lives in the USA. This is the most titled pit bull terrier of the whole planet in sports, training and exhibitions! Champion in the ADBA system, champion in the UKC system, certified therapy dog, multiple winner of competitions in agility, weight pulling, obedience, various types of training, dock diving, etc. Super Dog in the UKC system!
SOUTHEAST TEXAS AMERICAN ESKIMO DOG CLUB UKC SHOW
1/21/11 Boogieman takes 1st Place and Best Of Breed Novice Puppy
LONE STAR-LOUISIANA TOY FOX TERRIER ASSOCIATION
2/26/11 Boogieman takes 1st Place and Best Of Breed Novice Puppy
TEXAS RHODESIAN RIDGEBACK ASSOCIATION UKC SHOW
3/5/11 Boogieman takes 1st In Class Show 1
Boogieman takes 1st In Class and Best Male Show 2
3/6/11 Boogieman takes 1st In Class Show 1
Boogieman takes 1st In Class Show 2
MISSISSIPPI STATE AMERICAN PIT BULL TERRIER CLUB UKC SHOW
4/22/11 Boogieman takes 1st In Class, Best Male, and Best of Winners Show 2
4/23/11 Boogieman takes 1st In Class and Best Male and Earns his Conformation Champion CH Title Show 1
MIDDLE GEORGIA KENNEL CLUB UKC SHOW
5/6/11 Boogieman Wins The Champion Class Show 2
2011 Discovery Green Dock Dogs
7/1/11 Big Air Wave #3 Boogieman earns a leg towards his NJN Title
Big Air Wave #4 Boogieman takes 3rd Place and earns a leg towards his NJN Title
Big Air Wave #5 Boogieman takes 1st Place earns a leg towards his NJN Title
7/2/11 Speed Retrieve #1 Boogieman earns a leg towards his Speed Retrieve National Express Title
Big Air Wave #6 Boogieman earns a leg towards his NJN Title
Big Air Wave #6 Boogieman earns his National Novice Jumper NJN Title
7/3/11 Speed Retrieve #2 Boogieman earns a leg towards his Speed Retrieve National Express Title
MID-LAKES AUSTRALIAN SHEPHERD CLUB UKC SHOW
7/8/11 Boogieman Wins The Champion Class Show 2
AKC CGC TEST
Boogieman Earns his CGC
ILLINOIS TOY FOX TERRIER ASSOCIATION UKC SHOW
7/9/11 Boogieman Wins The Champion Class Show 2
UNITED DOG OWNER'S GROUP UKC SHOW
8/13/11 Boogieman Wins The Champion Class Show 2
MIDDLE GEORGIA KENNEL CLUB UKC WEIGHT PULL
9/4/11 Boogieman Earns a leg on his UWP Title
9/5/11 Boogieman Earns a leg on his UWP Title
METRO LOUISVILLE TRAINING CLUB UKC RALLY TRIAL
9/17/11 Boogieman Earns a Leg on his URO1 Title
9/18/11 Boogieman Earns a Leg on his URO1 Title
9/18/11 Boogieman Earns his URO1 Title
SOUTHEAST TEXAS AMERICAN ESKIMO DOG CLUB UKC AGILITY
9/24/11 Boogieman Takes 3rd Place and Earns a leg on his UAG1 Title
NATIONAL AMERICAN PIT BULL TERRIER ASSOCIATION UKC WEIGHT PULL
9/30/11 Boogieman Earns his UWP Weight Pull Title
10/1/11 Boogieman Earns 10 points towards his UWPCH Title
2011 ADBA NATIONALS
10/2/11 Boogieman Earned his SDC-I Title
2011 IRON DOG NATIONALS
11/5/11 Boogieman Earns his DHT Title
11/5/11 Boogieman takes 1st Place in Weight Pull Class and earns his IDWP3 Title
11/5/11 Boogieman earns his IDOB1 Title
11/5/11 Boogieman takes 1st Place in the Esquive Competition
11/6/11 Boogieman takes 2nd Place in Iron Dog Pentathlon and Earns his ID5 Title
11/6/11 Boogieman earns his ID3 Title
DIRTY SOUTH BULL BASH ABKC SHOW
11/12/11 Boogieman takes 2nd Place in 1-2 Classic Male Show 1
CANOPY ROADS CREW UKC OBEDIENCE & AGILITY TRIAL
11/19/11 BoogiemanTakes 3rd Place and earns a leg towards his UAG1 Title Trial 1
11/19/11 Boogieman Takes 1st Place and earns his UAG1 Title in Trial 2
BULLY STACKOFF APA WEIGHT PULL
12/3/11 Boogieman Takes 1st Place in 50 lb Weight Class Pull #1
Tulsa Agility Club UKC Obedience Trial
1/13/12 Boogieman earns a leg towards his UCD Title
BULL-O-RAMA ABKC WEIGHT PULL
1/21/12 Boogieman takes 1st In Weight Class
Louisiana Sportsmen's Show Splash Dogs
3/10/12 Splash #4 Boogieman takes 3rd Place
Splash #5 Boogieman takes 1st Place
Splash #6 Boogieman takes 2nd Place
Splash #7 Boogieman takes 2nd Place
3/11/12 Splash #8 Boogieman takes 2nd Place in earns his UNJ Title
Cajun Country/ Trinity Valley ADBA Weight Pull
3/18/12 Boogieman takes 2nd in Weight Class
THERAPY DOG INTERNATIONAL
3/24/12 Boogieman earns his Therapy Dog International TDI Title
Geogia APBTC ADBA Weight Pull
4/7/12 Boogieman takes 2nd in Weight Class
4/8/12 Boogieman takes 2nd in Weight Class
UCA Weight Pull
4/14/12 Boogieman takes 1st in Weight Class
Dog & Custom Car Expo Iron Dog/ ABKC Weight Pull
4/28/12 Boogieman Takes 1st in Weight Class and Most Weight Pulled Per Pound Iron Dog
4/28/12 Boogieman Takes 1st in Weight Class and Most Weight Pulled Per Pound 75 Under ABKC
Iron Dog Weight Pull
5/19/12 Boogieman Takes 1st Place in Class
UCA Weight Pull
6/9/12 Boogieman takes 1st in Weight Class and Most Weight Pulled and Most Weight Pulled Per Pound
UKC Premier
6/14/12 Boogieman Earns 20 points in Weight Pull on Cart
6/15/12 Boogieman Earns a leg on his Coursing Aptitude Title
6/16/12 Boogieman Earns 20 points in Weight Pull on Cart
Boogieman Earns a leg on his Coursing Aptitude Title
6/17/12 Boogieman Earns 20 points in Weight Pull on Cart
Boogieman Earns his CA Coursing Aptitude Title
SOUTHWEST AIR DOGS OBEDIENCE ASSOCIATION UKC SHOW
6/22/12 Boogieman Earns 20 points in Weight Pull on Rail
6/23/12 Boogieman Earns 20 points in Weight Pull on Rail and Earns His UWPCH Title
6/24/12 Boogieman Earns 20 points in Weight Pull on Rail
Boogieman Win the Champion Class and Earns his GRCH Title in Conformation
Boogieman Earns a UKC Total Dog Award
AMERICAN BULLY SUMMER JAM ABKC WEIGHT PULL
7/7/12 Boogieman Takes 2nd in Weight Class
TEAM NO F.E.A.R.'S H-TOWN THROWDOWN APA WEIGHT PULL
7/14/12 Boogieman takes 1st Place in Weight Class in AM Pull
Boogieman takes 1st Place in Weight Class in PM Pull
7/15/12 Boogieman takes 1st Place in Weight Class and Earns his APA R1 Title
SOUTHWEST AIR DOGS OBEDIENCE ASSOCIATION UKC SHOW
9/21/12 Boogieman Earns 20 points in Weight Pull on Rail
Boogieman Takes 2nd Place and Earns a leg towards his UCD Title Trial 1
Boogieman Takes 2nd Place and Earns his UCD Title Trial 2
Boogieman becomes a UKC Super Dog
9/22/12 Boogieman Earns 20 points in Weight Pull on Rail
9/23/12 Boogieman Earns 20 points in Weight Pull on Rail
9/29/12 Boogieman earns a leg towards his UAG2 title
9/30/12 Boogieman earns a leg towards his UAG2 title
10/20/12 Boogieman earns 2nd place and his UAG2 title in show 2
10/21/12 Boogieman earns 3rd place and a leg towards his UAGCH in show 1
10/22/12 Boogieman earns 2nd place and a leg towards his UAGCH in show 2
2012 ABKC NATIONALS
11/3/12 Boogieman takes 1st Place in Class in Weight Pull
Boogieman takes 1st Place in Class in the 1st National Canine Body Building Contest
11th ANNUAL TEXAS GET TOGETHER
11/17/12 Boogieman takes 1st In Class and Most Weight Pulled Per Pound 70 and Under Pull 1
Boogieman takes 1st In Class and Most Weight Pulled Per Pound 71 and Under Pull 2 and Earns his GPA WP1 Title
A! Woof Canine Performance Events Agility Trials
12/7/12 Boogieman wins third place in Colors Class
12/7/12 Boogieman earns a leg in Full House Class
12/8/12 Boogieman wins first place in Standard
12/9/12 Boogieman wins first place in Jumpers and earns his CL1-F title
Iron Dog Weight Pull
12/15/12 Boogieman Takes 1st Place in Weight Class
Boogieman Takes 1st Place in Weight Class
12/16/12 Boogieman Takes 1st Place in Weight Class and Most Weight Pulled Per Pound
SOUTHWEST AIR DOGS OBEDIENCE ASSOCIATION UKC SHOW
12/27/12 Boogieman Earns 20 points in Weight Pull on Rail
12/28/12 Boogieman Earns 20 points in Weight Pull on Rail
12/29/12 Boogieman Earns 20 points in Weight Pull on Rail
12/30/12 Boogieman Earns 20 points in Weight Pull on Rail and Earns his UWPCHX Title
A! Woof Canine Performance Events Agility Trial
1/5/13 Boogieman wins second place in Wildcard level 2 class
1/5/13 Boogieman wins first place in Colors level 2 class
1/5/13 Boogieman wins second place in Jackpot class
1/6/13 Boogieman earns a leg in the Standard class and earns his CL1-R title
A! Woof Canine Performance Events Agility Trial
2/8/13 Boogieman wins 1st Place in Wild Card level 2 class
2/8/13 Boogieman wins 1st Place in Jumper level 2 class
2/8/13 Boogieman wins first place in Wildcard class and earns his CL1-H title
Southern Bulldog Bash APA Pull
3/2/13 Boogieman takes 1st Place 50 pound class
A! Woof Canine Performance Events Agility Trial
3/16/13 Boogieman wins second place in Snooker class and earns his CL1-S title
Sunshine ADBA Club Weight Pull Show
3/30/13 Boogieman takes 1st place 45-55 pound males
3/31/13 Boogieman takes 1st place 45-55 pound males
Green County APBT Club
4/19/13 Boogieman takes 1st place 45-55 pound males and Most Weight Pulled Per Pound 55 and under
4/20/13 Boogieman takes 1st place 45-55 pound males
Georgia APBT Association
5/4/13 Boogieman takes 1st place 45-55 pound males
5/5/13 Boogieman takes 1st place 45-55 pound males and Most Weight Pulled Per Pound 55 and under
Great Lakes APBT Club
6/01/13 45-55 pound males Boogieman takes 3rd place
6/02/13 45-55 pound males 1st place. Boogieman becomes an ADBA ACE
BBCR/Iron Dog Weight Pull
6/08/13 Boogieman wins 1st place in his class and Most Weight Pulled Per Pound overall
Dallas Air Dog Event
7/20/13 Boogieman earned his Ultimate Air Dogs Novice Jumper title
7/21/13 Boogieman take 4th place in Novice division finals
2nd Annual APA H-Town Throwdown Weight Pull
8/10/13 Show 1 — Boogieman earns first place in the 60# class and MWPP 50, 60, 70
Show 2 — Boogieman earns first place in the 60# class and MWPP 50, 60, 70
Boogieman earns his APA Star 1
8/11/13 Show 3 — Boogieman earns first place in the 60# class and MWP 70 and under and
MWPP Middleweight division.
Treat Em Right Rescue NWDA Pull
8/16/13 Show 1 — Boogieman earns 1st place in 41-60# class and MWPP
Moving Weight APA weight pull show
8/17/13 Show 1 — Boogieman places 2nd in 60# class
Show 2 — Boogieman places 2nd in 60# class
Treat Em Right Rescue NWDA Pull
8/18/13 Show 2 — Boogieman earns 1st place in 41-60# class and MWPP
Show 3 — Boogieman earns 1st place in 41-60# class and MWPP
Boogieman earns his NWDA WPCH title
Middle Georgia Kennel Club
8/31/13 Show 1 — Boogieman earns a 20pt pull on wheels
9/01/13 Show 2 — Boogieman earns a 20pt pull on wheels
Irondog Pull for Jayln Rails Benefit Pull
9/07/13 Boogieman takes 1st place in 41-50# class and MWPP
NAPBTA National Specialty Show
10/04/13 Boogieman earns a 20pt pull on rails
10/05/13 Boogieman earns a 20pt pull on rails
10/06/13 Boogieman earns a 20pt pull on rails
Amstaff Nationals
10/11/13 Boogieman earns his TT from the American Temperament Test Society
Heart of Dixie Weight Pull and Conformation Show
11/1/13 Boogieman wins ACE class MWPP 55 and under trophy and 2nd place in 44-64 class
11/2/13 Boogieman wins 1st place in 44-64 ACE class
11/3/13 Boogieman wins 1st place in 44-64 ACE class and 55 and under MWPP trophy
Lone Star State APBT Club ADBA Weight Pull
11/16/2013 Boogieman earns 2nd place in ACE class 44 and under
Mid Florida APBT Association
11/29/2013 Boogieman earns 1st place in ACE class 44 and under and Most Weight Pulled Per Pound 55 and over
11/30/2013 Boogieman earns 1st place in ACE class 44 and under and Most Weight Pulled Per Pound 55 and over
Boogieman earns his ADBA ACE of ACE title
12/01/2013 Boogieman earns 1st place in ACE class 44 and under and Most Weight Pulled Per Pound 55 and over
Heart of Dixie ADBA Show
2/22/2014 Boogieman takes 2nd place ACE class 44-64#
2/23/2014 Boogieman takes 3rd place ACE class 44-64#
Hampton Roads Kennel Club- UKC
2/28/2014 Boogieman earns 20pt pull on wheels
3/01/2014 Boogieman earns 20pt pull on wheels
3/02/2014 Boogieman earns 20pt pull on wheels
Splash Dogs at Bass Pro Shops
3/22/14 Splash 1 — Boogieman takes 1st place in Novice Class
Splash 2 — Boogieman takes 1st place in Novice Class
Dallas Air Dogs
3/29/14 S1 — WP — Boogieman earns 20pt pulls on rails
S1 — Lure Course — Boogieman earns a leg towards his Coursing Aptitude Excellent title
S2 — Lure Course — Boogieman earns a leg towards his Coursing Aptitude Excellent title
Carolina Classics, Hickory, NC
4/04/2014 Boogieman earns a Rally 2 leg
Boogieman earns 20pt pull on rails
4/05/2014 Boogieman earns a Rally 2 leg
Boogieman earns 20pt pull on rails
4/06/2014 Boogieman earns a Rally 2 leg and his Rally 2 Title
Boogieman earns 20pt pull on rails
Palmetto State ADBA Club
4/11/2014 Boogieman takes 3rd place in ACE class 44 and over
4/12/2014 Boogieman takes 3rd place in ACE class 44 and over
Irondog Thawout Bourbannais, Illinois
4/19/14 S1 — Boogieman takes MWPP and earns Irondog Temperament Test Certification
S2 — Boogieman takes MWPP and takes 2nd place in Esquive competition
UKC Centreville Weight Pull, Lure Course & Rally
5/09/14 Boogieman earns a leg towards his CAX Lure Coursing title
Boogieman earns 3rd place and a leg towards his Rally 3 title
Boogieman earns a 15pt pull on wheels
5/10/14 S1 — Boogieman earns 2nd place and a leg towards his Rally 3 title
Boogieman earns a leg towards his CAX Lure Coursing title
Boogieman earns a 20pt pull on wheels
S2 — Boogieman earns a leg towards his CAX Lure Coursing title
Boogieman earns his third leg in Rally 3 and earns his URO3 title
Minnesota Mixed Breed Club, UKC Show
5/17/14 Boogieman earns 20pt pull on wheels
5/18/14 Boogieman earns 20pt pull on wheels
UKC Premier Show
6/12/14 Boogieman makes 20pt pull on wheels
Boogieman earns two legs towards his CAX title
Boogieman earns his UNJ Champion title
Boogieman earns his UAD Novice Jumper Champion title
6/13/14 Boogieman makes 20pt pull on wheels and earns his UKC Grand Weight Pull Champion title
Boogieman earns two legs towards his CAX title
Boogieman earns legs towards his UNJ Grand Champion title
6/14/14 Boogieman makes 20pt pull on wheels.
Boogieman earns legs towards his UNJ Grand Champion title
Boogieman earns two legs towards his CAX title
6/15/14 Boogieman makes a 20pt pull on wheels
Boogieman earns his UAD Novice Jumper Grand Champion title as well as his UNJ Grand Champion title.
K9 Fanciers Nosework Trial
6/21/14 Boogieman earns his PT1, PT2 and NNC titles
Minnesota Mixed Breed Club
6/28/14 Boogieman makes a 20pt pull on wheels
6/29/14 Boogieman makes a 20pt pull on wheels
UPF Houston Pull
7/12/14 Boogieman wins Most Weight Pulled Per Pound overall
7/13/14 Boogieman wins Most Weight Pulled in the middle weight division and Most Weight Pulled Per Pound overall
APA Pull Abingdon Illinois
8/30/14 S1 — Boogieman wins first place in his class and MWPP 50, 60, 70
S2 — Boogieman wins first place in his class and MWPP 50, 60, 70
8/31/14 S3 — Boogieman wins first place in his class and earns his APA Star 2 title
Illinois UKC Pull on Rails
8/30/14 S1 — Boogieman earns 20pts towards his Grand 1 title
8/31/14 S2 — Boogieman earns 20pts towards his Grand 1 title
2014 ADBA Nationals in Woodstown, NJ
9/20/14 Boogieman earns the second place trophy in 45-55# males class
2014 NAPBTA Nationals in Charlotte, NC
10/10/14 Boogieman earns his Coursing Excellent title (CAX)
Boogieman makes a 20pt pull on rails and earns points towards his 1 Grand title
10/11/14 Boogieman makes a 20pt pull on rails and earns points towards his 1 Grand title
2014 APA National Championship in Harrison, Arkansas
9/20/14 Boogieman earns the third place trophy 50# class
Lonestar ADBA Pull
11/14/14 Boogieman takes first in ACE class 44-64
11/15/14 Boogieman takes first in ACE class 44-64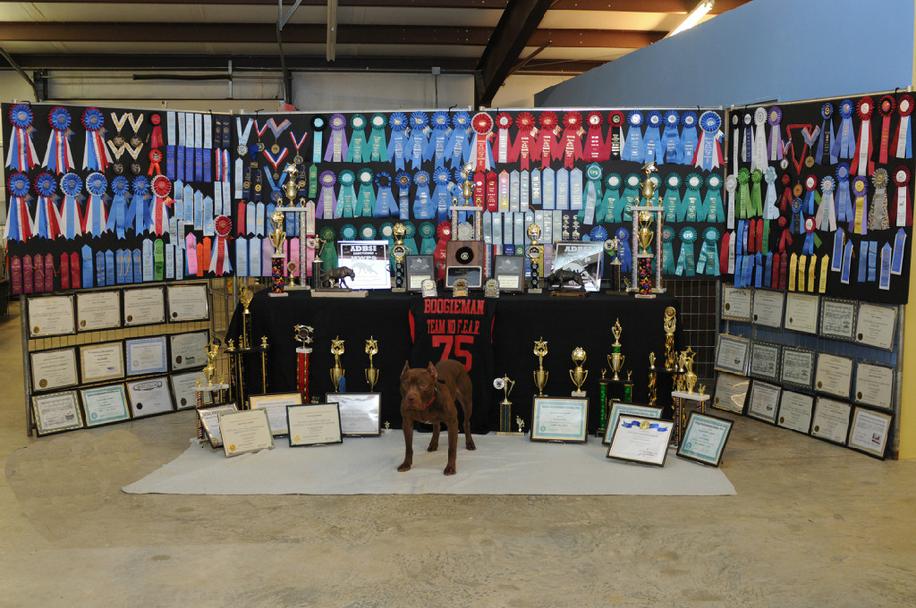 Maternal ancestor is the legendary GR Ch Avdeeva Red Alert ROM 5W. He is Bonya. He was born on August 23, 1993 in New York, USA. Imported to Russia in 1.5 months. The first American Pit Bull Terrier to receive the title of Grand Champion (in matches) while having the title of ROM (indicates that the dog has earned a certain number of points according to the DPCA rules plus has children who also earned these points and showed themselves highly, very rarely given to one of the pit bulls) . The father of a record for the CIS number of pit bull terriers with the title of Champion and Grandchampion in the match career. His descendants are very famous dogs like himself: AVDEEVA'S (YUDGIN) J & J 1xLG, GAVRILOVA'S (I LIFE STAR RED BOY) AGALEK (Ex GR) CH 6xW 1xL, HUAN'S (RRK) DEBRA 2xW, PEPSI TEAM'S HOLLY GR CH 6xW D.O.Y POR, PVM'S RED LIGHT GR CH 5xW