Pitbull breed: character and reviews
What associations do you have with the word «pitbull»? Strength, endurance, fighter, aggression, power, defense, stranglehold. These are associations in the minds of most people who are not familiar with the American Pit Bull Terrier breed. The frequent expression «pit bull dog made of velvet and steel» characterizes the breed very capaciously.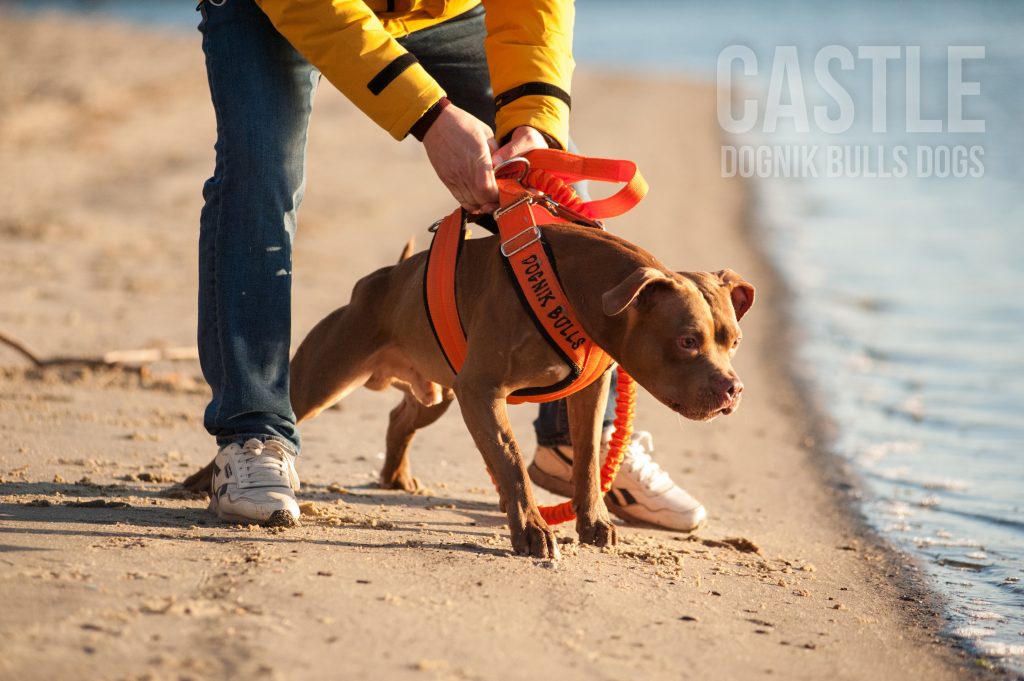 I will tell you about the real characteristics of the American Pit Bull Terrier breed. My name is Veronika Voitovska and I am the head of the American pit bull terrier kennel Dognik Bulls.
The pit bull is devoted and faithful to his master. The pit bull loves his entire «flock» without exception. The pit bull is active and hardy, a walk of several hours will please him, and when he returns home, he will sleep. Perhaps he will try to sleep under your covers. It depends on how you raise your pit bull and what you allow him to do. A pit bull may have severe or mild zooaggression. When considering buying a pit bull, you need to pay attention to this fact. Talk to the breeders of your future puppy, how zoo-aggressive his parents, grandparents are, what lines of breeding pit bulls are behind him. It is easier to find out when you take a puppy not from your hands, but in a well-known kennel. For example, we know and talk about all our dogs, about the children they give, about their grandchildren. And also about grandparents (they also live with us), even about great-grandmothers and great-grandfathers. Knowing the family tree of your Pit Bull Terrier is an important step in choosing a puppy. You buy a dog for many years of life, you already have children or will be born in the future, maybe you have a cat and you need to be sure of the psyche of the pit bull you buy. If you are looking for where to buy an American Pit Bull Terrier puppy, look at the page of our kennel in the puppies section.
Pit bulls are one of the healthiest breeds. They don't have brachycephalic problems like bulldogs, they don't have heart problems like dobermans, they don't have joint problems like canne corso, etc. There are several genetic tests in the breed that will help to avoid the occurrence of unwanted diseases in the offspring. Responsible breeders donate blood or buccal epithelium for these tests to special laboratories and know if their dogs are healthy, carriers of these diseases or sick. From this they are repelled in subsequent breeding. All dogs of the American Pit Bull Terrier Dognik Bulls are tested for genetic diseases. We breed only healthy dogs.
Characterizing the pit bull breed, it is worth mentioning the game — this is the desire to go to the end, no matter what it costs. Dogs with a pronounced game are strong fighters, excellent players, unsurpassed defenders. Yes, there are pit bulls without a game, this is a consequence of poor breeding.
Is it true that pit bulls have a «stranglehold»? The strength of the jaws of pit bull terriers is somewhat exaggerated by the media, but they do have a powerful bite and a good grip.
I will give you an example of reviews about the pit bull breed from buyers of Dognik Bulls puppies:
— Our Ru gets along well with children and a cat, moderately active at home and on the street. Very comfortable dog, which is not afraid to walk in the evenings.
— Thank you for our pit bull Malk. He is fearless, clearly knows the owners and will not let us offend. Very active, at home he struggles with the vacuum cleaner and our socks.
— Shiva is an unearthly dog, she is different from all our previous dogs, as if she came from another planet. Captures the mood, plays when we want it and has a clear balance of the nervous system — without excessive aggression.
If you have any questions about the breed or are thinking about buying a pit bull puppy, contact the American Pit Bull Terrier Dognik Bulls:
Email: dognikb@gmail.com
Instagram- dognikbulls